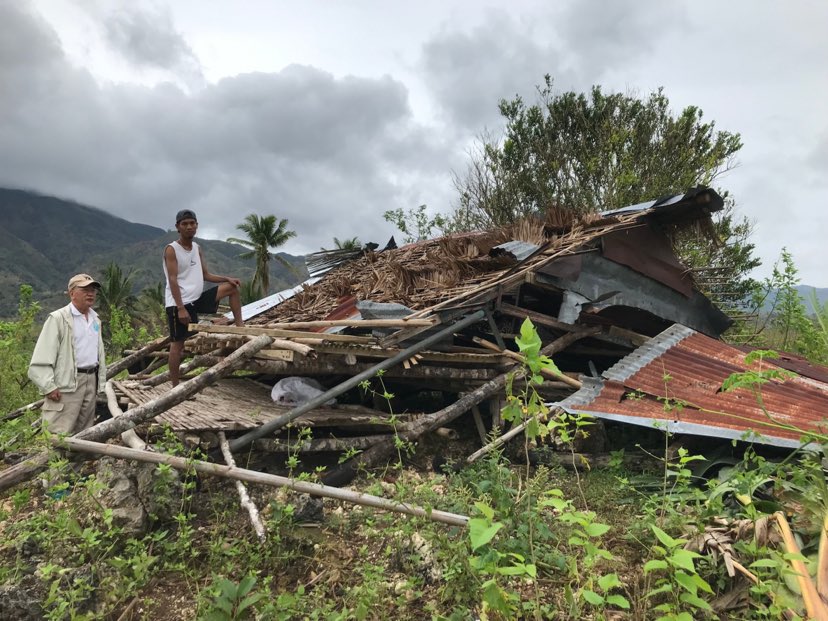 January 13, 2022
The typhoon Odette which directly hit the Philippines from the 16th to the 17th of December, 2021 caused serious damage to the central and southern parts of the country. According to the Philippine National Disaster Risk Reduction and Management Council (NDRRMC), as of January 13, 2022, 405 persons dead, 65 missing, 1,261 injured and 339,943 were displaced.
OISCA Bago Training Center located on Negros Island sustained also severe damage with large trees collapsed on the premises and the buildings destroyed. In addition to agricultural training, the Center also serves as a place for pre-training for young people who are planning to visit Japan through various systems such as technical intern trainees. Due to such damage, however, the training was temporally suspended. Moreover, the sericulture promotion project that is based in the center was hardly hit. The building with the boiler that is indispensable in the silk reeling process has been seriously damaged, and at the cocoon producing farmers on the island, sericulture facilities have been severely destroyed.
A few days after the disaster, the OISCA Headquarters received for a request for assistance from Mr. Watanabe Shigemi, Director of the center, who said that "of course, we have to rebuild the center, but above all, we want to be ready to support sericulture farmers and local residents who have been affected by disaster".
The OISCA Japan has started the appeal of the donation to the relief and reconstruction supports.
Bank Name: MUFG Bank, Ltd
Branch Name: Eifukuchou
Branch Code: 347
Bank Location Information: 
   5-1, Izumi 3-chome, Suginami-ku, Tokyo, Japan 
Bank Account Number: A/C 0016268
Account Name: koekizaidanhojin OISCA 
Swift Number/BIC: BOTKJPJT