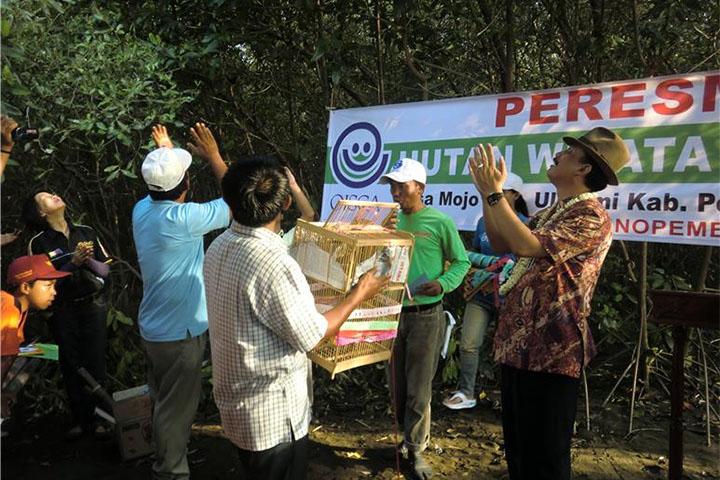 Nov 12, 2012
On the 7
th
 of November, Mr. Sudaryono, the Pemalang Regional Assistant led the release of local birds to symbolize the official launching of the OISCA mangrove project site in Mojo Village, Pemalang Regency as an educational and ecotourism destination.
The event was witnessed by mangrove project`s stakeholders and well wishers including the Mojo Village officials, mangrove coordinators and Pelita Bahari (planting group that was given the authority to manage 72 hectares of mangrove forest), representatives from Pemalang government offices, subdistrict officials, OISCA staff and school children who later on joined in the mangrove planting to signify the launching ceremony.
Meanwhile, after the launching ceremony, OISCA conducted a national mangrove seminar/workshop to show support to the Regency`s cooperative efforts towards the project. With a theme of "Utilization of Rehabilitated Mangrove Forest based on Community Empowerment and Local Wisdom", there were presentations and discussions among the 85 participants from the Ministry of Environment, Gajah Mada University, Pemalang Regency administration and OISCA project sites' planting groups
"I am hoping that this kind of event will be replicated to the other mangrove sites in Indonesia as it proves to be very useful and informative to people who are very much concerned about the environment", said by Mr. Suroso.
Since 1999, OISCA has managed to rehabilitate and reforest a total of 2,230 hectares of mangrove in Java and Madura islands.  In Pemalang Regency, 150 hectares were covered in state-owned land and fish ponds in Mojo Village. As the mangrove ecosystem gradually recovers, it became breeding grounds for crabs and collected by the locals for the soft-shell crab culture. Due to the positive contribution of the mangrove in terms of environment and economic aspect of the community, university students and researchers often conduct research and site observation.