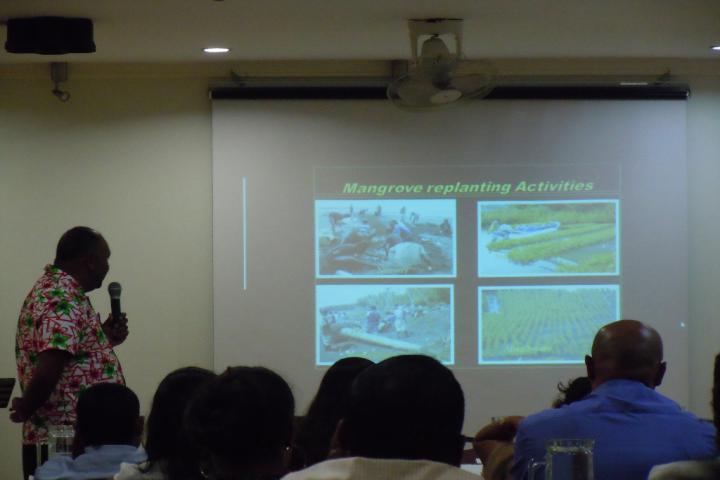 OISCA participated in the one-day event "Teachers` Workshop" organized by Japan Overseas Cooperation Volunteer (JOCV) in collaboration with Nadi Town Council (NTC). It was attended by 140 participants who are mostly school teachers and government officials of the Western Division which includes Nadi, Lautoka, Sigatoka, Ba, Tavua and Rakiraki.
The event has an objective to impart among the participants particularly to the school teachers the practical knowledge on proper waste management and thereby creating an opportunity for the schools to adopt the concept of 3R system (reduce, reuse and recycle). Through the presentation and discussions facilitated by the members of Nadi Town Council and actual site visit to Nadi schools that demonstrate excellent proper waste management system, the participating teachers and other government officials are expected to have clear and deeper understanding on the importance of having proper waste management system.
The event paved the way for the promotion of OISCA activities through the presentation showed by Mr. Felipe Rokovasa, OISCA CFP Coordinator during the event. Participating in the workshop further strengthened the good relationship between OISCA and the different government agencies including the Ministry of Education and Ministry of the Environment.
Since May 2011 last year, under the MOU signed between OISCA and Sigatoka Town Council, OISCA has been collecting biodegradable wastes from the Sigatoka public market and converted into Green Waste Compost by the OISCA NYTC trainees under the OISCA training program using effective microorganism (EM).
Aside from the compost making, OISCA is planning to implement the poultry project to St. Joan Primary School in Sigatoka town as part of the Children Forest Program in April. OISCA will incorporate the 3R system to educate the school children of the importance of environmental conservation and protection. The money that will be raised from the poultry project will be used for the maintenance of the school.